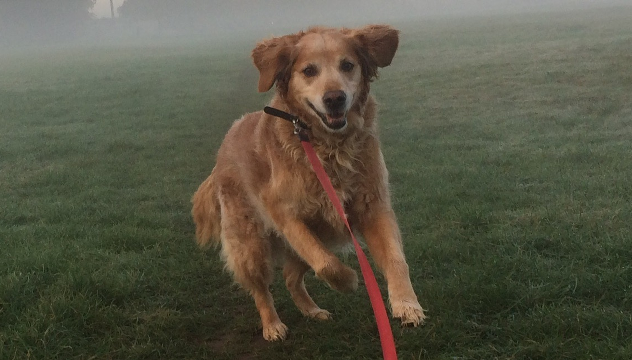 Sup?
This is a picture of my four legged bezzie on our walk this morning. I hadn't wanted to leave the house as it was wet, drizzling and not particularly warm.
As you might guess, I didn't have much choice. It was my turn to walk today (or so I was informed by the Queen of my Heart), and my hound was keen.
New years eve is a perfect time for reflection, planning, and thinking about what went right and what went wrong during the year.  I normally listen to podcasts during my constitutional but today before I switched on my phone I reflected a bit on my year, and talked it through with perfect puppy.
And these are our conclusions:
What went right in 2016
Surface Languages
Surface languages has continued to grow with between 500,000 and 600,000 page views every month.
It has never been affected by Google algorithm changes as I never optimise the pages for SEO, and try and make them as useful as possible to language learners.
Most visitors find the site through word or mouth and links from other websites to relevant pages.
So, if you like my site and want to see it grow, tell people.
I added further sentences in different languages.
My secret website
I've finally made the first tentative steps towards building another website which is an exercise in creative writing.
I'm learning French
I eventually made the commitment to learn another language properly, and have been having weekly French lessons using a teacher from italki.com.
Exercise
I am a big fan of body weight exercise (push ups, levers handstands …), and have made considerable progress during the year.
What went wrong in 2016
I set up several sites that were a complete waste of time and effort. I didn't think about nor plan them sufficiently.
In fact the past several years of my life is littered with half-finished websites that were almost but not quite good enough to continue developing.
I wasted a lot of time and was unproductive both in language learning and website construction. This was caused, as usual, by a lack of structure and organisation in my day to day life.
Plans for the future
I've never been a 'proper'  blogger. Every now and then, I metaphorically, put pen to paper and post something almost at random, generally related to language learning, but not always. I'm going to try blogging 'properly'. I'm not limiting myself to language learning, but want to talk about the life and times of a fifty something year old living in the UK.
I'm going to use my own voice.
I'm going to continue with My Secret Website. I'm torn as to whether to link to it here or not. The reason for not is that I want to see if it can succeed  entirely on its own merits without being linked to any other site, rather than to hide the content which is quite fluffy and entirely innocent.
I intend to add five hundred more  sentences in other languages to Surface Languages, time and money permitting.
And finally, this isn't a plan but a possibility.  I use three websites, Italiano Automatico, Français Authentique and Mr Real Polish and was wondering about either creating something similar in English or adding a section to Surface Languages in a similar vein.
Happy new year my puppies.
Baci,
MF